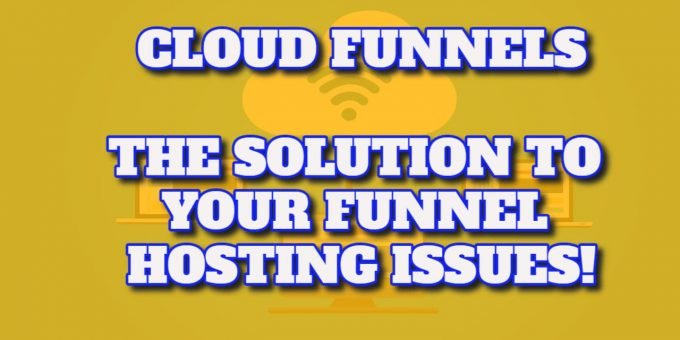 Hi there. This is Cyril Jeet, your best friend in internet marketing. And today I want to demonstrate to you Cloud Funnels. Cloud funnels is a revolutionary funnel builder. The first of its kind that you can install on any hosting.
You can put it on a shared hosting, maybe just pay $2 a month. You can put it on a VPS, you can put it on an independent server and you can even host it on all the prime cloud providers like Google, Amazon, et cetera.
And that's not all. Cloud Funnels is the most powerful funnel builder that you've ever seen and it can help you create really, really amazing funnels, really, really amazing landing pages, opt in pages, and it does your email marketing too.
So with Cloud Funnels you can create funnels, you can create memberships, and you can also do all your email marketing with Cloud Funnels.
So Cloud Funnels is truly a complete online marketing solution for you. You can do everything that you need to do to run your business online. And in this demo I will try to show you as much as I can while keeping the demo as small as I can.
So let's begin our Cloud Funnels Demo
First off, I'm going to show you how to create a funnel using Cloud Funnels. So here I am, I've installed Cloud Funnels on a website. It's my own hosting. I'm on the dashboard right now. I can see some of the information about this website, like my sales, my conversions, and all of that information is here for me.
Now on this particular site, I've already got two funnels. I've set up two funnels here already. Now let me show you how to create a third funnel using trout funnels easily. So to get started, just click on create new and you will be taken to a screen where you can give your funnel a name.
I've selected the name. Then you can select a funnel type. We support webinars, membership sales, and custom funnels so you can build virtually any kind of funnel using Cloud Funnels. I've selected the sales funnel type. Now the funnel URL is generated for you. It's generated on the basis of the funnel name.
You can change it to anything you want. And this is right on the website where I've hosted Cloud Funnels and you can actually create multiple funnels on the same website if you want. When you're ready, click on create that's done now and you can see all the pages that are a part of your funnel. And here you can select the template for your funnel.
Selecting your Cloud Funnels Template
So you can click on choose template and we have got a bunch of high quality ready-made templates that are built right inside Cloud Funnels that you can use instantly.
And I'm going to use one of those first. Or you can actually get your pages into cloud for us in a variety of ways. You could copy over an existing funnel from somebody who's given you a funnel. So if you've got another user on tout funnels, you've bought a funnel from somebody, they can just give you a URL, a special code, and you can copy over the funnel.
Or you can even clone any webpage from the website, from the internet, and just turn it into a cloud funnels page. So if you've got a ready-made page that you have hosted on some other funnel builder, don't worry about it. Click on clone URL. You feel, be able to put in virtually any URL, any website, and bring it over to cloud files in just a matter of seconds. But for this particular demo, I'm going to go with and with a page that I have from the template.
So just let me select this one. Click on the button and it will be duplicated over to you in a matter of seconds. All right, so that's done. The page came over and now I can make it my own by clicking on edit existing pages, I just click that and the page opens right up in the powerful funnel building software, powerful page editor that is included in cloud funds.
I can change anything I want in a very easy manner. So if I want to change this text, I can do that. Let me make a few changes. Okay, I changed the text. Now let me modify the text of this button too and now I want to change this image. So all I need to do is click on the image and click on the edit button here so it will open up. This is actually a powerful image editor.
I can change anything I want, so if I want to draw where the image, if I want to crop it or flip it or rotate it or change it in any other manner, I can.
I can even use filters to make the image brightness and contrast different, or make it gray scale or put it in the CPR color, make it CPR, whatever you want, but I don't really want that. I want to replace the image outright, so I'm just going to close this. I'm just going to double click on the image and I can change the image by clicking on this area.
So I've got an image on my PC, I will select it and it's going to appear in the list. All right, now I can just double click on it and I've got the image over here. If I want, I can resize the image, make it as big as I want, and here's my updated page to save it.
I'm just going to click on save template and Cloud Funnels is going to update it, the pages updated and similarly I can set up a sales page, I can click on choose template and I will get a variety of sales page templates to choose from.
So I selected a sales page and similarly I can select an order form. I can create an order form, I can create a confirmation page and I can also create a cancellation page. So I can just set up all my pages very, very quickly. All the pages that I have finished would be darker in color as you can see.
And finally, when I'm ready, my funnel will be live. Here's my funnel in the funnel list and I'm ready to go. I can see how my funnels, conversions are, I can see the bounces and I can edit the funnel, I can view the opt-ins, I can delete the funnel or I could even share it with another person.
And I've got some really powerful sorting and filtering systems where I can search a filter, search a funnel by name too. And if I click on edit, I can then further edit the funnel.
And I've got some really, really powerful SEO features and extra features too, like ENB testing, GDPR cashing, Zapier integration, and we've got connection with memberships. So you can create a membership and connect it to the membership. I'll show you the membership in a bit.
You can connect it to lists so anybody who signs up will be taken to the list that you want them to. And you can also connect it to autoresponders. You can also connect it to any external integrations that you want.
And we've got SEO features too. You can set up your OnPage SEO all inside of Cloud Funnels very easily. So let's go back a bit and now I'm going to show you how easy it is to create memberships.
Click on create new and this time instead of any other funnel type, select memberships and we will call it membership one click on create and all your membership pages will be ready made.
And you can again go to choose template, select the template that you want and get that page started. All the members that sign up to your membership will be shown in the members list. You can see that I've got a membership here already called membership.
This is the new one, membership one and in the membership I've got seven people who have signed up. I can click on the number to see the individual names, the individual list, and I can export the list. I can export the list to CSV, they get anywhere I want, so all the members are maintained inside and as you collect data you can see analysis which will give you information about how your funnels are converting.
So I'm just going to go from my membership funnel. You can see how the colder conversions were, how many views were there, what operating systems are being used to visit your site, what are the devices and the locations that your visitors are coming from.
And you can even see a page-by-page analysis for every single page inside your funnel. You can also set up products that you're selling or products that you're actually giving away. Whatever you want. Here are the products in my funnel and if you want to create a new one, just click on create a product and you can set up the product by putting in some basic details and then automatically you will start getting product sales data.
So Cloud Funnels lets you do any kind of customization. It gets, it lets you go to any extent. So you can set up a simple opt in funnel, just keep up the page there and sign up people to your autoresponders if you want.
Or you can even do things in depth. You can track your sales inside Cloud Funnels, you can create product inside Cloud Funnels. Everything is possible. Yes, you can track sales. So if you're selling using Cloud Funnels, if you are, if you're getting your payment through Cloud Funnels, you can track all the sales that you've been making.
You can see who bought your product at what time and what kind of products they bought. And Cloud Funnels has a lot of payment system integration. So when I go to payment method, I've got one payment system here already called, called PayPal.
It's called PayPal and it's, and it's actually with PayPal, but you can click on create new and then you can select from a variety of payment systems that are natively integrated inside of Cloud Funnels. We've got PayPal, Stripe, authorize.net JV zoo value plus pay.com, bake extra art, Thrivecart and ClickBank.
Similarly, you can also connect your favorite autoresponder to Cloud Funnels here you've got no integrations yet. Click on create new and you will get a selection of autoresponders that you can connect to Cloud Funnels immediately. You've got mail, engine, active campaign, constant contact, get response, HubSpot, MailChimp, Ontraport and Eber.
Then you can also integrate almost any plugin, any third party system on Cloud Funnels using our third party integration systems. So I have already integrated a chart system using talk to integrate something new.
Click on create new and you can see that we have native integrations for chat using talk to or messenger for Skype, Google and Google analytics and Facebook pixels. And you can add virtually any integration, any custom code by clicking on create custom integration and putting in the details and that will put your integration on the page.
Then you've also got deeper integration and we've got a detailed tutorial that shows you how to integrate Zapier with Cloud Funnels and using the API.
All your information can flow to anywhere you want, including spreadsheets, your custom CRM and other apps or wherever you want. You can send your purchase updates, your sales updates, your membership signups, anything you want.
And we also have an inbuilt autoresponder right inside Cloud Funnels. So you can actually create lists. Earlier in the demo I showed you how to connect your funnels, you connect, your memberships with the list and we already have two lists created.
So these lists are a part of the part of an existing funnel that I have. You can create a new list by clicking on create new and you can give you the name and that's it. Then you can connect it to any funnel that you want or any product that you want using cloud funnel settings.
And there are tutorials inside of cloud from a membership that's going to, that are going to show you everything how to do that.
You can send mail out to those lists just like you send out in your autoresponder. So using compost mail you can type in a mail, you can select what kind of mailing system you want to use. So cloud funnel lets you integrate multiple SMTP PS and if you've got mailing facility on your server using PHP Mila, you can even use that.
And you can select the list that you want to mail to. And if you want to mail some specific emails, like a pick list, you can just put base it in here and send it. And here you can write in your email message.
It's a full-fledged editor, you can stylize it, you can type in your message, you can put in your custom phones, you can put in your list, you can even put in images. So all of that is possible using the Cloud Funnels editor.
And once you are ready, click on send meals and that meal will be sent out immediately. And, of course, Cloud Funnels is powerful at every step, so if you want to send out the mails in a specific batch or a specific, you know a flow, you can do that. You can choose how many emails you want to send out and how much gaps are.
This right now is set up to send 20 emails batches in every 32nd gap. Then you also have mail sequences and that is really golden. Imagine anybody who signs up to your list. Anybody who opts in, anybody who buys a product, you can trigger off a mail sequence where you can send them mail out at a regular interval.
You can put in your title, add in a meal, and then you can, you can decide when you want to send them the mail after first day of purchased 50th day, 20th day, third day, whatever you want.
You can just click on it and on that interval cloud funnel is automatically going to send out your meals to your customers, to your members, and that way you can set up your entire sequences right inside Cloud Funnels without having to buy an autoresponder.
In addition here you can see the mailing history, you can see who was mailed and you can see how the mail went off versus open or not. All of the information is inside of Cloud Funnels. It's got every kind of permission that you want, whether the people clicked the email or not.
All of that info is available and you can filter it. You can select for a particular person, do anything you want. Cloud funnel supports multiple SMTP you can put in your SMTP address and you can also put in as many SMTP accounts that you have and use different accounts for different purposes or for different funnels.
And it's out funnels also support multiple users. So if you've got a VA, if you've got a staff and you want to give them limited rights, like you want to allow somebody to set up your funnels but you don't want to give them access to your email area, you can do so you can create multiple users.
Now I've got myself in here. But if you want to add in more users, click on create new, you can put in the user details, the email address, everything. And then in ad permissions you can select exactly what areas do you want the user to access.
So if you want to allow somebody to access your sales but not to access your autoresponders, you can do so.
It lets you set up a cookie consent notification and it also lets you manage your data request.
So if somebody wants to request whatever data you have on them, you can use Cloud Funnels to view that request and also fulfill it, which means you can generate the data and send it to them.
And finally in settings you can modify a lot of information about how Cloud Funnels is set up. And this is a really advanced section. Of course a lot of information is in here. Cloud funnels is the most customizable, yet the easiest to use funnel marketing system ever created.
And we want to help you use it to the maximum extent possible to make the most amount of sales get the most amount of leads using Cloud Funnels. So what we've done is inside every section we have built in tutorials and when you scroll to a section at the bottom, you will find a link, watch tutorials, click on that link and you'll be taken to a tutorial that will show you exactly how to use that section.
It'll explain everything about it, it'll show you all the settings and it will show you how to use those features in a powerful manner. So that is there.
And we've got a bunch of tutorials. This is the training playlist on YouTube and we've got 17 videos on it already. We are going to explain every single thing to you, make sure that whenever you're looking for information you see it illustrated in a beautiful manner and you're able to use Cloud Funnels to the maximum extent possible.
So again, Cloud Funnels is the only system that lets you create amazing funnels for every purpose. It lets you create memberships and it also lets you send out mailers. It also lets you create mail sequences.
It integrates with PayPal, it integrates with all the payment system, it integrates with your favorite autoresponders and it's got every single feature that you could ask for included with amazing amount of training that will turn you into a prime amazing funnel marketer.
And I've said it before but I can't stress it enough. Cloud Funnels is the only funnel build a system that you truly own. You can host it on any hosting and you will never have to worry about your funnel systems going down. You can create an infinite amount of funnels on one particular domain and it allows you to scale up infinitely.
It can work on systems as cheap as $2 a month hosting as cheap as $2 a month. And if you got a huge website, if you've got a lot of customers, if you've got a lot of traffic, you can, you can independently host on your own server and if you want mission critical reliability, you want your funnels to never go down.
You want to make sure that your ad budgets are always used, that you are never suffering because your ad dollars are wasted.
You can host it on mission critical systems from Google. It supports Google hosting on GCP on app engine, which is very inexpensive and infinitely scalable. You can host it on app engine using an inbuilt integration.
We have an inbuilt integration inside of Cloud Funnels to help you host it on GCP, on Google cloud platform. So guys, these features you won't find in the most expensive funnel builder system that you might have bought in the past.
Cloud funnels beats everything in the market and all you need to do to believe that is give it a try. We've got a 30-day refund guarantee. You've got nothing to lose. Give Cloud Funnels a try. If you don't absolutely love it and you don't think it's the best funnel builder system ever, tell us and we will give you a refund without any questions asked.